Rugby
O'Donnell makes second impact of the season in Vegas
It's hard to believe that Australia's Ben O'Donnell started competing in Sevens Rugby just over one year ago. But considering the fact that the 22-year-old secured his ticket to the 2017/18 HSBC World Rugby Sevens series in less than 12 months, his sharp rise up the ranks shouldn't come as a surprise.
"Ben O'Donnell is most definitely one to watch in this series going forward," says Rob Vickerman, former England captain and DHL Rugby Sevens Ambassador.
And what a pleasure it was to watch the young speedster rise to the top of the DHL Performance Tracker with an extraordinary effort – one that made him the DHL Impact Player of the 2018 HSBC Las Vegas Sevens – his second of the season since his brilliant display in Sydney just over a month ago.
Consistently impressive
Consistency is key to winning the DHL Impact Player award, and O'Donnell has once again proven his dependability on both sides of the ball. With a whopping 25 carries and 21 tackles, he's a force to be reckoned whether on offense or defense. With the ball in hand, his footwork makes him a nightmare to defend, and his work rate off the ball make him hard to beat one on one. Combine that with his extraordinary defensive skills and you've got a nearly inimitable impact player on the pitch.
"Ben O'Donnell is most definitely one to watch in this series going forward"

Rob Vickerman
Over three days of play in front of a packed Sam Boyd Stadium in Las Vegas, O'Donnell chalked up 25 carries, 21 tackles, 4 offloads and 2 line breaks, only a few points shy of his Sydney result and right up there with some of the biggest numbers on the series so far. His carrying ability is certainly standing out: he's made 108 of them so far this series – more than any other player.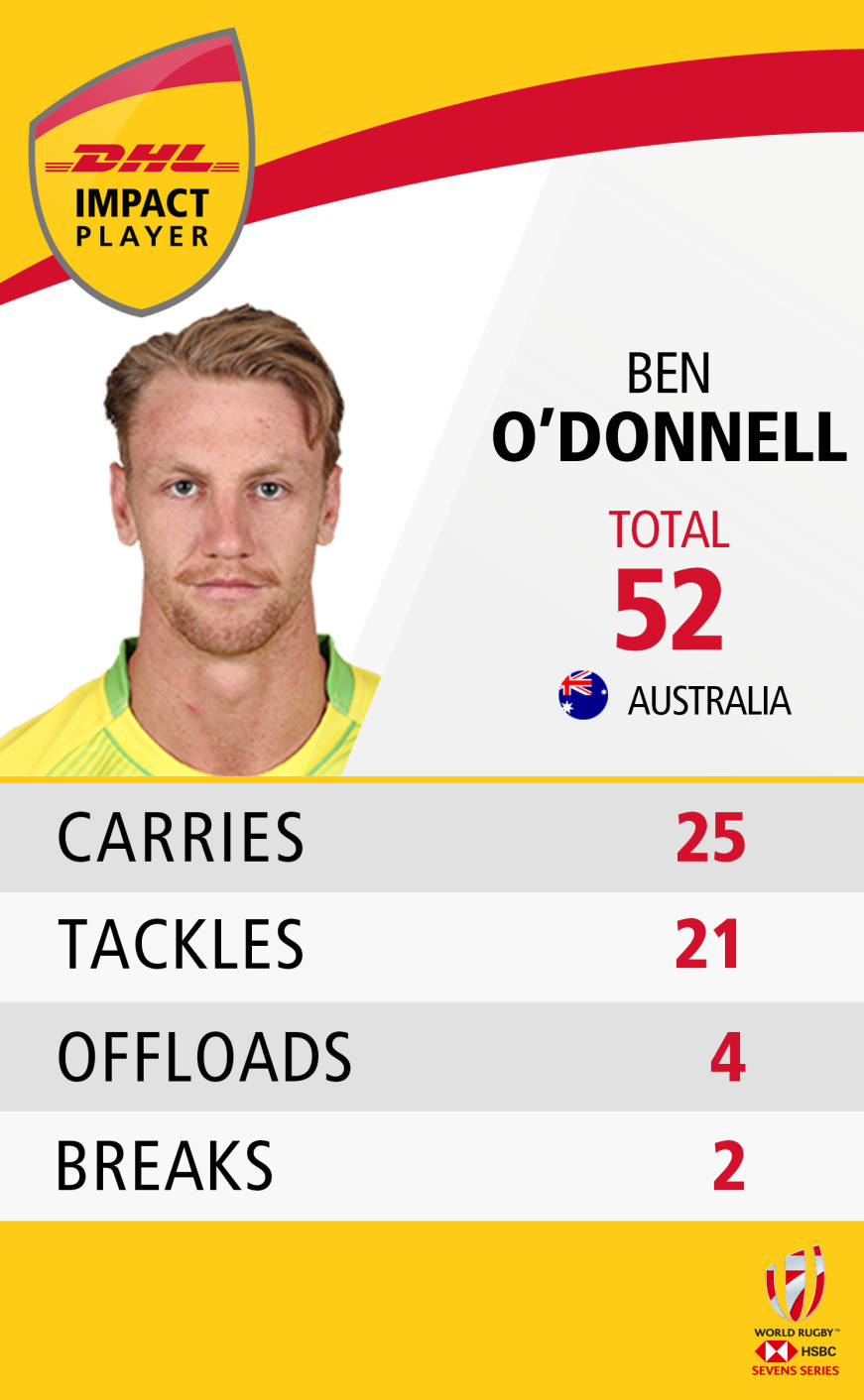 After winning DHL Impact Player award at the 2018 HSBC Sydney Sevens, O'Donnell leapt into second place on the DHL Performance Tracker behind none other than South Africa's star Seabelo Senatla. He remained in second after the Blitzbok's flyer scored his second Impact Player award of the season a week later in Hamilton.
Now, O'Donnell not only leaves Las Vegas with a second DHL Impact Player award of his own, he also springs to the top spot overall with a commanding lead after the series' fifth tournament: He's 16 points clear of his nearest competitor, Canada's Justin Thomas.
Souring Eagles
While O'Donnell was making his impact, it was a momentous day for USA Sevens at the 2018 HSBC Las Vegas Sevens. Winning their second ever Cup final, the Eagles Sevens thrilled the home crowds as they held Argentina to a zero score line at the end of another blockbuster day of rugby. The first and last time they stood atop the podium was in 2015 at the London Sevens.
"It's just so amazing to win on home soil."

Danny Barrett, USA Sevens
USA's speed machine, Perry Baker, drew lots of cheers with a powerful performance that yielded him 47 points and second place on the DHL Performance Tracker. One of his 19 carries led to one of the most memorable tries of the year: a 126-meter run from his own try line in the semifinal against Fiji, beating several defenders on the way. A remarkable 11 line breaks meant he was a threat from anywhere on the pitch all weekend long.
After going unbeaten in the tournament, USA leapfrogs England into 6th place overall in the series with 58 points. South Africa remains in the lead (92), followed by New Zealand (82) and Fiji (79).
After the tournament, USA's Danny Barrett, who was named HSBC Player of the Final, said, "It's such a team effort, we've worked so hard for so long. Three straight years in a semi-final in Las Vegas and to come here, missing our captain and missing a number of players, it's just so amazing to win on home soil. A second Cup final ever for the USA and it feels great to be at home."
HSBC Vancouver Sevens
After five different winners in five tournaments, the 2017/18 HSBC World Rugby Sevens Series now moves north to Canada, where Baker and O'Donnell will go head to head in Pool A along with hosts Canada and Uruguay. Who will come out on top of the DHL Performance Tracker – and the tournament for that matter – is anybody's guess.
Keep following @DHLRugby – the Official Logistics Partner of @World Rugby7s – for all the latest stats, Impact Player insights, and exclusive content from the world of rugby.
Find out more about the DHL Impact Player award and the four previous winners right here.