Manchester United
UNITED. DELIVERED.: Dreaming of the Theatre of Dreams

"Epic" was the word Jason Wells used to describe the day he hosted the UNITED. DELIVERED. match in Cape Town, South Africa. "We thrive on being fully behind any of our great club's initiatives," he said. "This is one more amazing initiative."
A few months and thousands of miles later in Cartiff, Wales, UNITED. DELIVERED. match host Dan Robertson shared the same sentiment: "Amazing," he said. And that despite breaking a rib during the game. "My body is a wreck, but it's worth every ounce of pain."
"I'm absolutely speechless!"

Dan Robertson
Now these two United fans and their UNITED. DELIVERED. teams will likely struggle to find new superlatives for the experience of a lifetime they are about to share: A weekend in Manchester to take in the final home game of the 2017/18 season and … wait for it … a chance to play on one of the football's most celebrated pitches with United coaches and legends. All delivered by DHL.
WATCH: Tour Highlights
The hosts
Despite living on opposite ends of the earth, Jason and Dan are both deeply committed to football and entered the competition to become UNITED. DELIVERED.for basically the same reason: to spread the love and the spirit of Manchester United to others.
Jason Wells

As a member of the Cape Town Manchester United Supporters Club, hosting events was nothing new to Jason and he saw the match as a way to win over more fans.
"This would also be a great marketing tool to get further members registered for the new season," he said.
"Is this for real?"

Jason Wells
Dan shares his passion for football by coaching kids in his community. He leads the under 14 boys team at A.F.C. Whitchurch and wanted to reward them and their families for everything they do for the club and the team.
Dan Robertson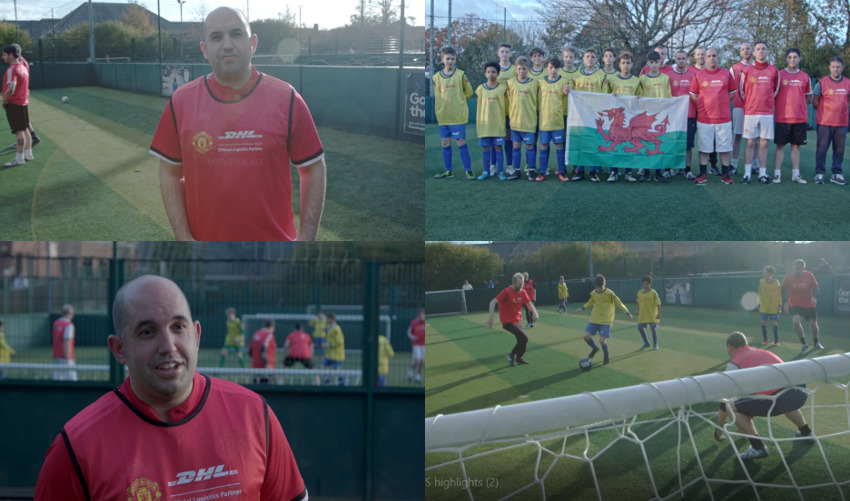 "I would love for my kid's team to be part of this event," he said. "I'm so proud of my team."
Now Jason, Dan and their teams are getting the ultimate reward: a trip to Old Trafford
The experience
The moment in Manchester is just over a week away and both match hosts still can't believe it.
When Jason got the news via email from DHL headquarters, he thought it was fake and forwarded it his local DHL contact in South Africa. "Is this for real?" he wrote. After she spoke to him he was absolutely beside himself. "I think I'm only slowly coming to terms with it," he said.
Dan was less skeptical but said it certainly felt surreal. "I'm absolutely speechless," he said. "I'm ecstatic, thank you so much. I can't quite believe it."
Jason, Dan and their teams will be hosted by DHL for a weekend in Manchester. While in Manchester they will visit Old Trafford to see the final game of the season against Watford. The next day they will take a tour of the stadium that ends in the players' locker room. There they'll need to suit up to play the final game of the UNITED. DELIVERED. Global Football Tour right on the pitch of the Theatre of Dreams.
The weekend's activities will be captured by on video and film, so stay tuned to watch and delight in this once-in-a-lifetime experience with our winners.
The tour
Though the UNITED. DELIVERED. Global Football Tour is now coming to an end, you can still relive all the action and explore an interactive map with all the match locations. Just visit the UNITED. DELIVERED.page right here on DHL InMotion.
Keep following us on Twitter @DHLManUtd and check out #DHLUnitedDelivered for more!