Fashion
Drive – Business of Fashion's New Podcast Series delivered by DHL
Entrepreneurship in Fashion
No other industry is marked by continual change of trends, the spirit of the times and global exchange as the fashion industry. At the same time, precision, quality, originality and to an ever greater extend sustainability play an important role.
BoF's new podcast series Drive explores what it really takes to convert your business vision into a profitable reality. By marrying creativity and innovation with crucial business acumen, the Business of Fashion and DHL want to support fashion entrepreneurs in building a successful fashion business from scratch.
Drive Episode 1:
José Neves on building Farfetch
In episode 1, BoF's Imran Amed sits down with the Farfetch founder and chief executive José Neves. In the motivating interview he shares his entrepreneurial experiences of growing his self-funded Portuguese start-up to a disruptive but successful global marketplace for fashion, which has recently filed for an IPO on the New York Stock Exchange.
"I had this parallel life where there was dual track. I had a technology company in Portugal still running. I had a fashion business which was functional. I had to come up with something that actually leveraged maybe my unique strength. I'm not that good a shoe designer and not that good a programmer, but I have both."
In this episode you'll learn that entrepreneurial success doesn't come easy, on the contrary, it is a real challenge that requires determination and perseverance.
"From a personal level, I was absolutely hell bent [on] creating something in the intersection of technology and fashion, and that's when the idea of Farfetch came about."
Drive Episode 2:
Diane von Furstenberg on Building a Business in a Man's World
In episode two of BoF's new podcast series, Imran Amed talks to the fashion designer and entrepreneur Diane von Furstenberg about her 45-year business career. She shares the common highs and lows of a fashion business and how she began by using factory scraps to create the first iconic DVF wrap dress while pregnant.
"I wanted to be a woman who's in charge of her destiny, who could pay her bills. I wanted to be an independent woman. I went to Angelo Ferretti and said: 'I am pregnant. I am getting married and I'm moving to New York. Will you please, please, please allow me to make some clothes that I will try to sell in America?' So I would stay late at night with the pattern maker and grab any fabric that was on the floor, leftovers. That's how I made my first dresses."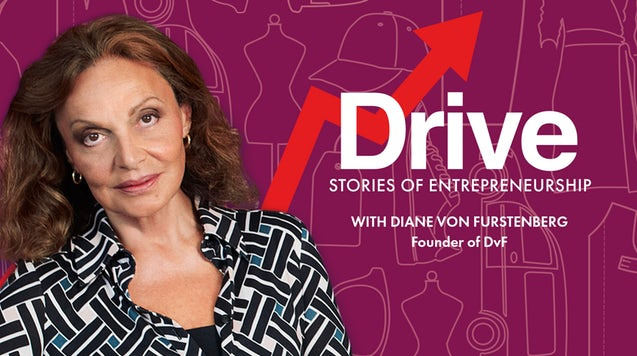 Adaptation, resilience, discipline and her passionate commitment sustained her thriving global enterprise for over 45 years. Listen to episode two in order to become a successful entrepreneur like DVF who sees failure as an opportunity to learn and grow.
"You have to live the moment and you have to own whatever it is, a catastrophe, anything. Face it, own it, deal with it."